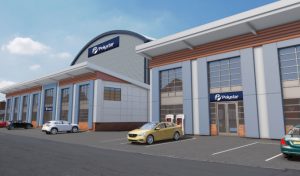 Following the recent European referendum result, companies buying polythene-based materials from the continent now run the risk of being affected in the short-to-long term by potential issues with economic growth, interest rates, exchange rates, trade and transport regulations and production or demand levels.
Southampton based polythene manufacturer Polystar Plastics, has revealed plans to produce an additional 2,000 tonnes of polythene per month in the UK.
The extra production will give the firm an overall capacity of 40,000 tonnes per year and is the end result of a £5m investment that the company claims will make it one of the largest independent polythene producers in the UK.
The 2 new factories/extrusion halls will eventually house a number of brand new CO-EX machines, ranging from three to seven layers, each with a fully automated profile control system and full BRC and ISO 9001 certification. The work is due to be completed in January 2017.
In addition 30-40 new jobs, ranging from sales executives to technical engineers, will be created.
Suchin Talwar, commercial director of the family run firm said: "Although we're well known in industrial and agricultural sectors, this new phase in our expansion allows us to move into other sectors like the food, beverage and pharmaceutical markets. Our absolute belief in what we are doing and the resulting growth of the company is something for the UK manufacturing industry to be proud of – especially considering the uncertainty that's been caused by the Brexit vote."
To find out any more information call 02380 232 153 or email sales@polystar.co.uk.