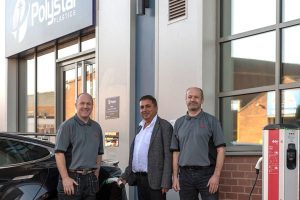 Polystar Plastics was recently featured in the British Plastics & Rubber publication recently for our recent installation of electric vehicle charging posts at our headquarters in Southampton, as part of our new sustainability initiative.
The charging posts were installed by energy giants E.ON, who will also operate and maintain the posts on-site, and allow up to 12 vehicles to be charged at one time. Our Commercial Director, Suchin Talwar added that the company's work in helping customers reduce their own environmental footprints made it consider its own long-term sustainability goals.
For more information on our recent initiative, view our featured article, written by British Plastics & Rubber, here.
For further details on our Green Pledge and our sustainable products, click here.