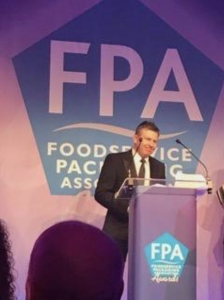 The Polystar Plastics team attended the annual Food Service Packaging Awards on the 9th of March.
It was a fantastic evening event and a great chance to meet many key personnel in the food service arena. They also had a stand, which enabled them to promote some of their key products, which included their range of green packaging solutions.
Polystar sponsored the FPA Design Team Award, which was judged by an independent panel, and Paul Toby – Transformation Director at Polystar presented the award to Euro Packaging.
The independently owned polythene specialist, leading the way in innovative and green packaging solutions – Drawing from over 20 years of experience, they provide the expertise, technical excellence, and quality bespoke polythene products our customers need. Their investment in the latest polythene extruders enables them to manufacture a wide range of specialist films and packaging. This combination of technology and experience means every product that they produce is unmatched in quality or value, earning them a reputation as one of the leading polythene manufacturers in the UK.